With a strong tissue of small and medium sized companies with stable growth, Romania is a good candidate for scaling programmes. Delivering growth at scale is at the heart of the strategy initiated and led by Raiffeisen Bank Romania aiming at scaleup support in Romania. Scaleups can provide the Romanian economy with a large impact: jobs and tax revenue, bringing solutions to market, create highly skilled jobs, drive up productivity and maintain country-based competitiveness.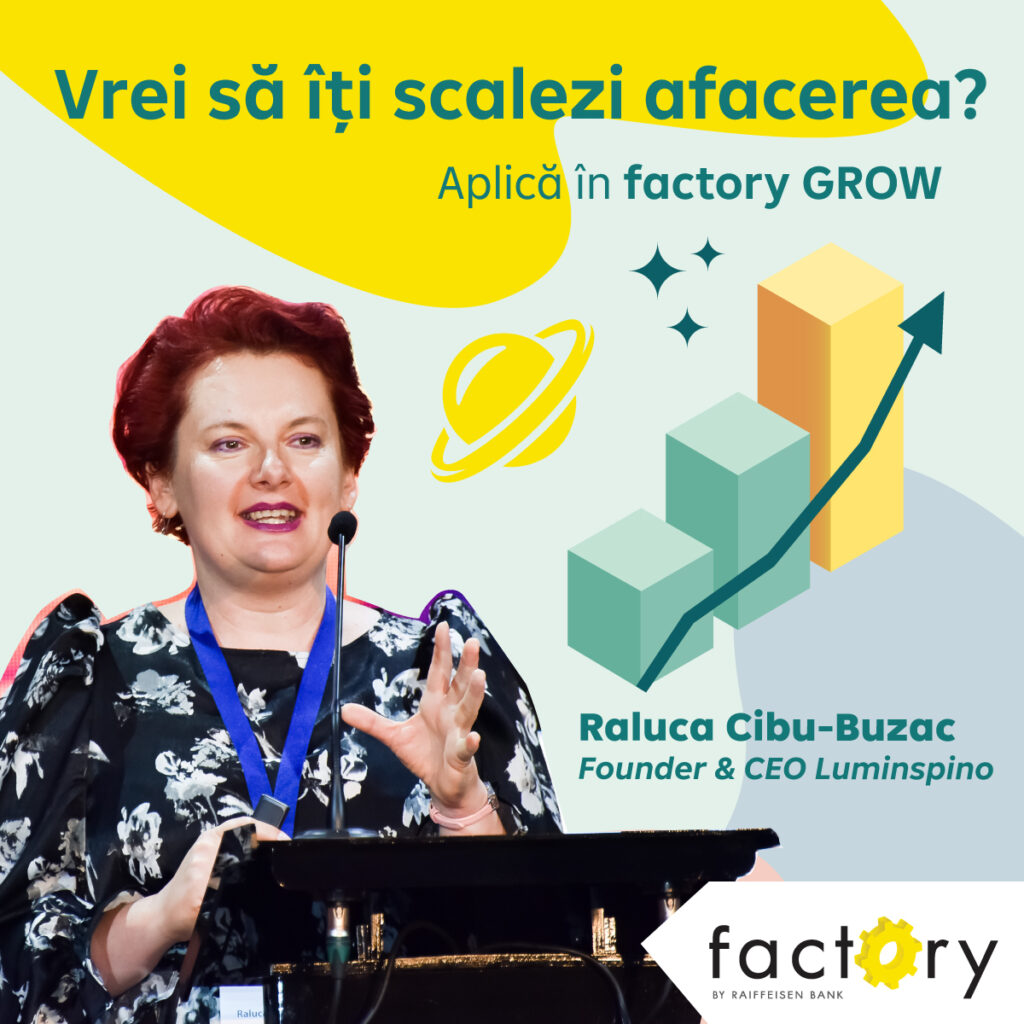 As per 2022, there are no initiatives in this sense in Romania while, on the other hand, there are "silent scaleups" in the ecosystem, those that are not measured, yet they match the profile sought for scaling:
SMEs with realistic, high-growth oriented ambition and a commitment to implement it;
SMEs that have overcome the start-up challenges;
Have either an innovation and/or a business model that can disrupt existing markets;
Potential to grow by 25-45% or more compound annual growth rate (CAGR), depending on current turnover;
Already aware and interested in international opportunities and international expansion;
Driven by a capable and ambitious management team.
Considering all the above definitions, LUMINSPINO created a programme approach that combines the main ingredients for scaleup support, with the aim to steer the mindset transformation at company level, throughout a process with deep impact on vision, organizational setup, skills, innovation, and internationalization. Hence, besides the access to finance, our scaleup support should activate a clear and impactful roadmap for the individual companies selected.
Throughout a transparent process, companies first and foremost fill in a Scaleup Diagnostic, referring to business model, human capital, productivity and economic data, processes, research and technology development, competitive position, collaboration with other companies, trends affecting the company, forecasts, social and environment sustainability.
Then, after the scaleup readiness assessment, and the interview, the companies move to the next step of writing the Scaleup Roadmap, focused on the action plan aimed at overcoming obstacles and achieving the scaleup targets, as well as corresponding KPIs and roles within the team. After the endorsement of the roadmap, the latter becomes a mutual commitment for the company's growth, both on behalf of the bank, and of the SME itself.
Throughout the implementation of the roadmaps, each scaleup company will benefit from customised support for scaling, consisting in extensive scaleup coaching and mentoring, concentrating on the topics of operational management, innovation management, internationalisation, and funding strategy. All the relevant information about the Factory GROW programme can be found here.